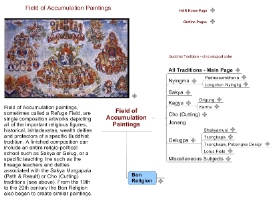 The Refuge Field, or Field of Accumulation, pages have been updated with new images and sections, updated Outline Page and more links. The Gelug section has been divided between the four types of Refuge Field paintings common to the Gelug. Padmasambhava, the Longchen Nyingtig and a Miscellaneous Subjects section have also been added. There are approximately 80 Refuge Field paintings in the HAR database at the present time.
Field of Accumulation, or Refuge Field: A Refuge Field is a particular type of Buddhist, and in recent times Bon, painting composition that arranges all of the teachers and deities of a particular tradition in one painted composition as formulated by individual religious traditions and as described in liturgical texts. The function of a Refuge Field is to be a visual composition reminding the devotee of all of the most sacred objects contained in the tradition, namely the (1) Teacher, (2) Buddha, (3) Dharma - religious texts, (4) Sangha, (5) Ishtadevata - meditational deities, and (6) Dharmapala - the Religious Protectors, including wealth deities. The Refuge Field is also the basis of a visualization and meditation practice common to Tantric Buddhism. The Tibetan word 'tsog zhing' is often mistakenly translated from Tibetan to English as 'Refuge Tree' because of confusion with the Tibetan word shing meaning 'tree' and zhing meaning 'field', region or realm. The correct translation and name for this type of painting is Field of Accumulation, or more commonly known in English as a Refuge Field.
This type of composition, seen from the examples in the HAR database, appears to be a very late phenomenon in Tibetan and Himalayan art quite possibly only becoming popular in the late 18th century. The earliest examples appear to be the Gelug paintings and then the Nyimgma Longchen Nyingtig examples of the 19th century. Examples of the Bon Refuge Field only appear in the late 19th and then the 20th century. The standard Shenlha Okar Tsog Zhing - Field of Accumulation - was designed late in life by a Bon Lama from Eastern Tibet, Shardza Tashi Gyaltsen (1859 -1933), based on personal visionary experience.