| | |
| --- | --- |
| Origin Location | Tibet |
| Date Range | 1800 - 1899 |
| Lineages | Sakya and Buddhist |
| Material | Ground Mineral Pigment on Cotton |
| Collection | Private |
Interpretation / Description
Confession Buddhas from a five painting set depicting Shakyamuni Buddha and the Thirty-five Confession Buddhas using the iconographic system of Gestures Only.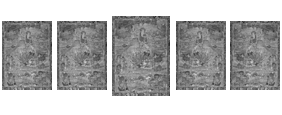 There are two traditions of Mahayana Buddhism that include the Thirty-five Confession Buddhas as a key element in ritual and visualization practice. The two are the Yogachara and Madhyamaka philosophical systems of Mahayana Buddhism. Two distinct ritual systems for bestowing the Bodhisattva Vows have developed from these two traditions and both incorporate the visualization of the Thirty-five Buddhas along with the recitation of the Confession Sutra.
In Himalayan and Tibetan art there are at least three different iconographic systems for depicting the individual Thirty-five Confession Buddhas. The principal authors of commentaries and ritual texts were Nagarjuna (not necessarily the famous Nagarjuna), Sakya Pandita and Je Tsongkapa along with a number of others. The TBRC website lists approximately sixty texts associated with the practice of the Confession Buddhas.
Jeff Watt 2-2016