Item:

Teacher (Lama) - Milarepa
| | |
| --- | --- |
| Origin Location | Tibet |
| Date Range | 1800 - 1899 |
| Lineages | Kagyu and Buddhist |
| Material | Ground Mineral Pigment on Cotton |
| Collection | Dr. David Nalin |
Classification: Person
Appearance: Lay Person
Gender: Male
TBRC: bdr:P1853
Interpretation / Description
Milarepa: the great poet yogi of Tibet surrounded by life story vignettes. This painting belongs to a set of unknown number with only one other known painting definitely belonging to the same set: HAR 68329. There are also four other possible paintings similar in appearance that may very well belong to the same set. (See Milarepa Outline Page).

mi la re pa

Biographical Details
The Nalin Collection composition depicts narratives from the middle part of Milarepa's life story. It contains scenes recalling the time that Milarepa's clay pot rolled down a hill and another incident where he was spotted by a farmer as he flew in the sky above and cast large shadows on the ground. Both of these narrative vignettes are found at the very bottom of the composition. Many of the vignettes in this painting can be found in painting number #9 of the famous nineteen painting Stockholm set.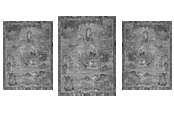 The other painting from the set HAR 68329 is the last in the series and depicts the passing and cremation of Milarepa. In comparison with the Stockholm set HAR 68329 incorporates vignettes from paintings #16 through 19. Unfortunately this is still not helpful enough to determine exactly how many paintings belong to the full set, but it is likely that the number is far fewer than the nineteen painting set.
Jeff Watt 6-2009