Item:

Teacher (Lama) - Panchen Lama 2, Lobzang Yeshe
| | |
| --- | --- |
| Origin Location | Tibet |
| Date Range | 1700 - 1799 |
| Lineages | Gelug and Buddhist |
| Material | Ground Mineral Pigment on Cotton |
| Collection | Newark Museum |
Classification: Person
Appearance: Monastic
Gender: Male
TBRC: P106
Interpretation / Description
Lobzang Yeshe, the 2nd Panchen Lama (1663-1737): composition number #3 (left 1) belonging to a three painting set based on the iconography and style of the Nartang block print thirteen painting set of the incarnation lineage of the Panchen Lamas. (See the Nartang Panchen iconographhy page).
(This composition has not yet been located).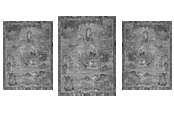 The composition on the left of center (viewer's right) would depict Lobzang Yeshe (1663-1737), the 2nd Panchen Lama [12], at the center with Abhayakara Gupta [4] at the top left. Sakya Pandita Kunga Gyaltsen (1182-1251)at the top right [6]. Kedrub Geleg Pal Zangpo (1385-1438) at the bottom left [8] and Ensapa Lobzang Dondrub (1505-1564) at the bottom right [10].
In each of the three compositions there are three levels of visual hierarchy. First is the largest figure at the center. Secondly, there are the four smaller figures of pre-incarnations in the right and left paintings and the two side figures of the center painting. Thirdly, there are the small depictions of the accompanying figures that are found in the Nartang block print compositions. In those paintings there is always a teacher above at the right or left, a meditational deity above, and at the bottom a wisdom or worldly protector deity. All of these Nartang secondary and tertiary elements are contained in the three painting set depicted here. Each and every figure found in the Nartang compositions are repeated here in detail in this very crowded composition.
Jeff Watt 8-2013