Item:

Shakyamuni Buddha - Jataka (previous lives)
| | |
| --- | --- |
| Origin Location | Mongolia |
| Date Range | 1900 - 1959 |
| Lineages | Buddhist |
| Material | Ground Mineral Pigment on Cotton |
| Collection | Zanabazar Museum of Fine Arts |
Classification: Person
Appearance: Buddha
Gender: Male
Interpretation / Description
Shakyamuni Buddha, Previous Life Stories (Sanskrit: jataka. Tibetan: kye rab): from the famous Indian text presenting 34 morality tales drawn from the previous life stories of the historical buddha, Shakyamuni.
---
#2 King of the Shibis
A Tale of Charity.
Born a great king, the bodhisattva delighted in using his vast amount of wealth and power to give charity to the poor. He constructed massive alms halls stocked with various goods, provisions, and grains. He would even supply dwellings, clothing, perfumes, wreathes, gold, and silver to all who requested.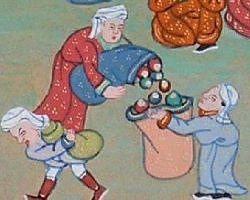 One day however, while touring one of his great halls, the king noticed that there was only a small number of supplicants and this troubled him. It seemed that the beggars thirst for aid was easily quenched but his thirst for giving was not. It was during this time that he started to question whether he would accept a bolder request, such as one of his organs or limbs. Shakra, the Lord of Gods, heard this and went to test the king. Disguised as an old blind brahman man, Shakra asked the king for one of his eyes. The king did not just accept the request but immediately gave the blind brahman both of his eyes, despite all of his closest advisors imploring him not to.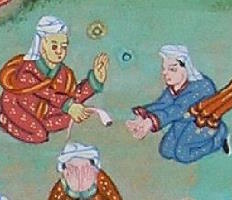 Some time later, the now sightless king was sitting cross legged in his garden by a pool of lotuses. Shakra once again approched him, this time in his true form and rewarded the generous king by restoring his eyesight. The king then addressed his awestruck kingdom, telling them that the only real value in wealth is that one can give it away to help others.
Monty McKeever 2-2005
---
Key Events in the Story
1. A generous king.
2. Gives away his eyes.
3. Eyesight is restored.
Front of Painting
English Translation of Inscription: Two.
Wylie Transliteration of Inscription: gnyis pa.