Item:

Shakyamuni Buddha - Jataka (previous lives)
| | |
| --- | --- |
| Origin Location | Mongolia |
| Date Range | 1900 - 1959 |
| Lineages | Buddhist |
| Material | Ground Mineral Pigment on Cotton |
| Collection | Zanabazar Museum of Fine Arts |
Classification: Person
Appearance: Buddha
Gender: Male
Interpretation / Description
Shakyamuni Buddha, Previous Life Stories (Sanskrit: jataka. Tibetan: kye rab): from the famous Indian text presenting 34 morality tales drawn from the previous life stories of the historical buddha, Shakyamuni.
---
#3 A Small Portion of Gruel
A Tale of Generosity.
In this lifetime, the bodhisattva was the king of Koshala. Beloved by all his subjects, the king possessed many good virtues but one quality surpassed all others: his talent for gaining prosperity.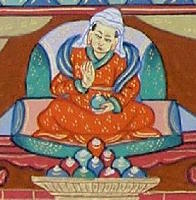 While in a deep sleep one night, the king came to recall one of his previous lives and was deeply moved. He then began to mysteriously repeat to his subjects that all the prosperity of their kingdom was produced by "a small portion of gruel." Although intrigued, nobody in the kingdom understood what he meant and none had the courage to ask. He continued to repeat this and the curiosity of his people continued to grow until one day while in front of a grand assembly, the queen beseeched him to explain himself.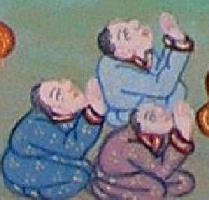 He stated that he had recalled a past life in which he had been a poor servant. He remembered working hard, barely being able to support his family, and becoming entangled in feelings of contempt and sorrow. Yet when he came upon a travelling group of monks he invited them into his home and offered them all he had, which was just a small portion of gruel. It was because of this one small act that he was reborn a great king. He proclaimed that no act of kindness is small if given from the heart. Having witnessed the wonderful results of generosity, the people of Koshala also developed a high regard for meritorious action. The prosperity of the kingdom continued to flourish even greater than before.
Monty McKeever 2-2005
---
Key Events in the Story
1. King has a dream...
2. ...about "a small portion of gruel."
3. King recounts the dream to the people.
Front of Painting
English Translation of Inscription: Three.
Wylie Transliteration of Inscription: gsum pa