Interpretation / Description
Shakyamuni Buddha, Previous Life Stories (Sanskrit: jataka. Tibetan: kye rab): from the famous Indian text presenting 34 morality tales drawn from the previous life stories of the historical buddha, Shakyamuni.
---
#25 The Fabulous Sharabha Deer
Having Compassion for an Enemy
Virtuous beings show compassion even to those who seek to harm them. When evil doers are in distress, the truly compassionate never abandon them. This was the case when the Bodhisattva was born in the forest, as a fabulous Sharabha deer.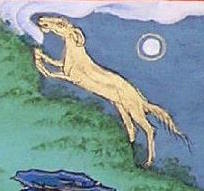 During a large hunt, a local king who was distracted by his passion for sport became separated from his retinue of elephants, chariots, and footmen. Because the horse he was riding was swift, he crossed a great distance without realizing it and became lost in the remote woods inhabited by the Sharabha Deer.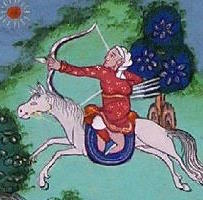 The king spotted the impressive deer and immediately strung his bow and started to pursue it. The chase continued until they reached a gaping chasm. The deer leapt across with ease but the king's horse abruptly halted, and the jolt threw the king from the horse. When the deer turned around he saw the horse at the chasms edge and quickly realized what had happened. His heart overflowed with compassion for the man who was surely on the rocks below badly injured or even dead.
Completely forgiving the man's attempt to kill him, the deer climbed down and offered aid. The deer's kind action moved the injured king deeply and he apologized with tears in his eyes, saying that he had mistaken the deer for a low minded beast when in fact it was himself who was the brute.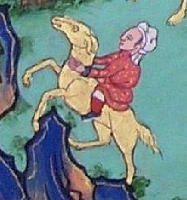 The deer carried the King to his horse and the king, overcome by gratitude and remorse told the deer that he was forever in his service and beseeched the great being to come live in the capitol. The Sharabha deer declined the offer but said that he did have one request, that the king and the people of his kingdom stop hunting. He stated that the forest animals are worthy of his compassion and protection and not his arrows. The king agreed and from that day on, hunting was outlawed in the kingdom and the forest animals lived in safety.
Monty McKeever 6-2005
---
Key Events in the Story
1. King falls into a chasm.

2. Deer saves king.

3. Hunting is outlawed.

Front of Painting
English Translation of Inscription: Twenty-five.
Wylie Transliteration of Inscription: nyer lnga.