Interpretation / Description
Ratnasambhava Buddha (Tibetan: rin chen jung den, sang gye): a principal buddha within Vajrayana Buddhism representing the qualities of enlightenment and residing in the southern quarter of a mandala. In this composition Ratnasambhava is part of a five painting set according to the Sarvadurgati Parishodana Tantra (Eliminating Bad Rebirths). Following the important five Buddhas there are an additional twelve principal mandalas.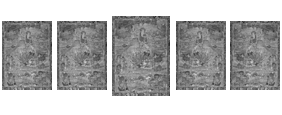 "Arising in the southern direction is Ratnasambhava on a horse, lotus and sun throne; with a body yellow in colour the right hand is placed in the mudra of supreme generosity." (Trakpa Gyaltsen, 1147-1216).
Along the front of the throne are 3 of the 4 female Door Guardians seated between the green and blue horses. In the middle for the southern direction is Vajrapashi holding a lasso. At the left, west, is Vajrasphota holding a chain and at the right, east, Vajrakushi holding a hook. Unseen behind for the north would be Vajraghanta. At the bottom center is a wrathful blue male figure with one face and six hands. At the two sides and above are three wrathful attendants, white, blue and green, each with one face and two hands standing in a wrathful gesture with the right leg bent and the left straight. Although similar in appearance to the usual Shadbhuja Mahakala the hand implements and entourage are different and raise doubt as to the correct identification of the figure.
At the bottom left side is the Direction Guardian of the south, Yama, blue, in the appearance of a heavenly god, riding a brown buffalo. Standing alongside is the Guardian King of the South, Virudhaka, blue in colour, holding a long sword with both hands, wearing a helmet and the garments of a warrior. At the bottom right is the Direction Guardian of the southwest, Rakshasa, yellow, riding on the back of a brown zombie.
Surrounding all of that are 165 buddha Amitabha figures. Red in colour, aligned in rows, each with one face and two hands, they perform the mudra of meditation with the two hands in the lap and hold a begging bowl, wearing red robes and seated in vajra posture, surrounded by circles of light. The structure of a lion supported throne extends along the length of the bottom. (See painting #270 for an almost identical composition and structure).
Occupying a central role in the Yoga and Anuttarayoga systems of Vajrayana Buddhism, Ratnasambhava, is the Lord of the 4th of the Five Buddha Families of tantra.
Jeff Watt 9-99 [updated 6-2009]