Item:

Worldly Protector (Buddhist) - Tseringma (Kagyu)
འཇིག་རྟེན་པའི་ལྷ། ནང་ལྷ།
世俗的神(佛教)
(item no. 69915)
| | |
| --- | --- |
| Origin Location | Tibet |
| Date Range | 1800 - 1899 |
| Lineages | Buddhist |
| Material | Ground Mineral Pigment on Cotton |
| Collection | Private |
Classification: Deity
Appearance: Peaceful
Gender: Female
Interpretation / Description
The Fair Blue-Faced One (Tibetan: ting gyi shal zang ma) belongs to the set of Five Long-life Sisters led by Tseringma. Blue in colour, holding a mirror in the right hand and an arrow with fluttering silk streamers in the left, she rides atop a wild ass.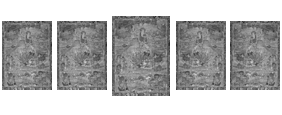 In the Himalayas every mountain has a god either male of female, angry, benign, or moody. Mount Everest on the Nepal-Tibet border has five and they are known as the Five Long-Life Sisters (Tibetan: tse ring che nga). According to legend, as Padmasambhava in the 8th century was first entering Tibet to spread the Buddhist teachings, he stopped to meditate in a magnificent cave, these five sisters, mischievous by nature, made numerous attempts to distract him. Manifesting in a wrathful form he made them pledge to serve the Buddhist religion, and thus transformed them from mountain gods into Buddhist protectors.
Paintings and sculpture of the Goddess of Mount Everest along with her four sisters are based on ritual texts written over the centuries by notable religious figures to propitiate the deity for favors such as long-life, to cure illness and other forms of protection. This painting is from a set of five depicting each of the sisters in a separate painting, but intended to hang together as a set of five with the elder sister Tseringma in the center.
Jeff Watt 5-2005