Item:

Teacher (Lama) - Chogyur Lingpa
| | |
| --- | --- |
| Origin Location | Eastern Tibet |
| Date Range | 1800 - 1899 |
| Lineages | Nyingma and Kagyu |
| Material | Ground Mineral Pigment on Cotton |
| Collection | Private |
Classification: Person
Appearance: Lay Person
Gender: Male
TBRC: bdr:P564
Interpretation / Description
Choggyur Lingpa (1829-1870) at the center accompanied by hand and foot prints - from a three painting set depicting Jamyang Khyentse Wangpo and Jamgon Kongtrul in the other two compositions. (See Choggyur Lingpa Main Page).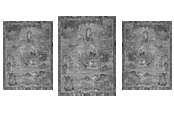 The Tibetan custom of having drawings done based on the physical outline of a teachers feet (and later - hands) appears to be an oral instruction coming down from Gampopa Sonam Rinchen. The most famous early text describing this practice was written by Pagmodrupa Dorje Gyalpo - a direct student of Gampopa. A number of early paintings are known that depict the feet of Drigung and Taglung teachers. (See Footprints & Handprints Main Page).
Choggyur Lingpa is depicted with long black hair falling across the shoulders, a slight growth of facial hair, along with the right hand raised holding the stem of a white flower blossom supporting a sword and book - emblems of wisdom. The left hand placed in the lap supports a treasure casket signifying the holder as a Treasure Revealer (Terton) of the Nyingma Tradition of Tibetan Buddhism. The head is adorned with a lotus hat common to the Nyingma tradition (see Nyingma Hats). Wearing the colourful long sleeved garments of a layman, he also wears a white lower robe which is often an indication of a lay practitioner belonging to a hereditary line of Nyingma Mantradharins (ngagpa).
At the top center is Akshobhya Buddha, white in colour, Sambhogakaya in appearance (which is synonymous with bodhisattva appearance), supporting an upright golden vajra in the palms of the hands placed in the lap in the meditation gesture, seated in vajra posture.
At the bottom center is a golden Dharma Wheel on a large pink lotus blossom accompanied by a white conch, red coral and wish-fulfilling jewels of various colours.
Jeff Watt 2-2011
Reverse of Painting
Wylie Transliteration of Inscription: gter chen mchog gling gi phag zhabs rjes dang 'dra shal byin ldan.
Special Features: (Printed script (Uchen))