Item:

Teacher (Lama) - Situ Panchen 8, Chokyi Jungne
| | |
| --- | --- |
| Origin Location | Tibet |
| Lineages | Kagyu, Karma (Kagyu) and Buddhist |
| Material | Ground Mineral Pigment on Cotton |
| Collection | The Ashmolean Museum of Art and Archaeology |
Classification: Person
Appearance: Monastic
Gender: Male
TBRC: P956
Interpretation / Description
Chokyi Jungne, 8th Tai Situ (1700-1774). At the bottom center is Situ Panchen wearing a red hat. His proper right hand is extended across the knee with the palm open and face up in the gesture of generosity. The left hand held at the heart gently holds the stem of a lotus flower supporting a sword standing on the hilt with the blade pointing to the sky. The two legs are folded in vajra posture as he sits atop a monk's requisite meditation mat.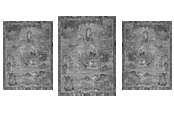 Descending at the left are Arya Nagarjuna with a translucent halo, Vasubandhu with the left hand raised, Chandrakirti with the right hand raised and Maitripa holding a pen and paper.
Descending at the left is Oddiyana Padma holding a vajra and skullcup, Gunaprabha holding a begging bowl in the upraised left hand, Naropa wearing monks robes and a red pandita hat, Vidyadhara Manjukirti in the garb of a king and the mahasiddha Virupa adorned with a garland of flowers and seated on a deer skin.
Each figure is accompanied by an inscription written in gold. Along the bottom are verse praises to each of the teachers depicted in the composition.
There are two other known compositions similar to this, the first is in the Hahn collection and the second in the Rubin Museum of Art collection.
Jeff Watt 10-2005