Painting Set: Situ Panchen (Lineage of Teachings)
Situ Panchen Lineage of Teachings | Tai Situ Main Page


Various Indian and Tibetan teachers depicted in a three composition painting set.

The painting subject is believed to be the depictions of the important teachers in the lineage of Situ Panchen. The figures included in the composition relate to an early biography of the Tai Situpas. Five compositions with the same format are currently known to exist, but with different teachers in the composition. There are three paintings in the complete set. This determination of a three painting set is based on the Rubin Museum painting with a back inscription which reads 'left painting.' This suggests that there is a center painting and a right painting, which makes for a set of three. The Rubin Museum painting and one of the Jiang collection paintings are identical in figures and layout.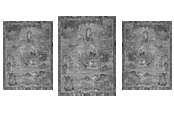 The Rubin Museum painting is different than the others. It is painted with black ink on gold silk with no ground and little use of colour. The other four paintings are on a prepared ground and painted in rich colours. The style of painting for all is that of Kham (East Tibet) and very strongly associated with Palpung Monastery comparisons. The depictions of the monastic figures and specifically the drawing of the robes also follow closely with examples of Karma Gardri sculpture of Central Tibet in the 16th and 17th centuries.
Painting Sets (four known sets, five paintings)
:
-
Rubin Museum
(one painting)
- Hahn Foundation (one painting)
-
Ashmolean Museum
(one painting)
- Jiang Collection (two paintings)