Item:

Worldly Protector (Buddhist) - Rahula
འཇིག་རྟེན་པའི་ལྷ། ནང་ལྷ།
世俗的神(佛教)
(item no. 851)
| | |
| --- | --- |
| Origin Location | Mongolia |
| Date Range | 1800 - 1899 |
| Lineages | Nyingma |
| Size | 43.18x31.12cm (17x12.25in) |
| Material | Ground Mineral Pigment on Cotton |
| Collection | Rubin Museum of Art |
| Catalogue # | acc.# P1999.13.10 |
Classification: Deity
Appearance: Wrathful
Gender: Male
Interpretation / Description
Rahula (Tibetan: za du, kyab jug): wrathful worldly protector of the Nyingmapa Treasure Tradition.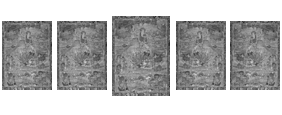 Fiercely wrathful, frightening in appearance, the nine faces are stacked upwards in sets of three. Each face has three round eyes, a gaping mouth with bared fangs and yellow hair flowing upward. The top of the head is adorned with a black crow's head. The right hand extended and upraised to the side holds an eight-pointed weapon wheel, gold in colour. The left hand in a wrathful gesture holds a gold makara-head lasso. Adorned with crowns of gold and precious jewels, earrings, necklaces and bracelets, an orange scarf is draped about the shoulders and a green skirt tied with a yellow sash around the waist. The two arms and torso are filled with eyes and a large face with a gaping mouth covers the stomach. The lower body is that of a coiled snake and covered with eyes, rising above a blood filled lake, completely encircled by dark smoke and wisps of orange flame.
Four wrathful deities surround the central figure. At the upper left is buffalo-faced attendant, red in colour, with two hands holding a makara-handle knife and a bag of disease. At the right is a green makara-faced attendant. At the bottom right is a white leopard-faced attendant. At the left is a yellow lion-faced attendant, wearing a human skin. All have the same hand objects, flaming orange hair, tiger skin lower garments, and cavort in wild dancing postures amidst swirling dark smoke.
Rahula is typically shown with four hands, however there are numerous variations and differing 'Treasure' traditions.
"From a fierce E [syllable] in a realm equal to space, the Lord arises out of wrathful activity, smoky, with nine heads, four hands and a thousand blazing eyes; homage to the Great Rahula - Protector of the Teachings." (Nyingma liturgical verse).
Jeff Watt 6-99