Item:

Teacher (Lama) - Tsongkapa
| | |
| --- | --- |
| Origin Location | Tibet |
| Date Range | 1700 - 1799 |
| Lineages | Gelug |
| Material | Ground Mineral Pigment on Cotton |
| Collection | Tibet House, New York |
Classification: Person
Appearance: Monastic
Gender: Male
TBRC: bdr:P64
Interpretation / Description
Tsongkapa, Lord (1357-1419): founder of the Gelug School of Tibetan Buddhism. The depiction of the throne of Tsongkapa held up by four devas (gods) indicates that this painting is from a set of five compositions based on a vision of Kedrub Geleg Pal Zangpo. (See Five Forms of Tsongkapa).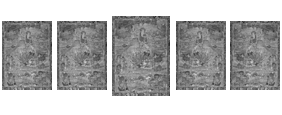 Tsongkapa

Biographical Details
Smiling affectionately, youthful and composed, he places the two hands in the mudra (gesture) of Dharma teaching while holding the stems of two lotus flowers blossoming above the shoulders. The flower on the right supports a sword of wisdom and on the left the Prajnaparamita folio book. Crowned with a yellow pandita hat, pointed at the tip, the lappets drape across the shoulders. Wearing the orange and yellow patchwork robes of a fully ordained monk, the right arm remains bare. The legs are folded right over left in the posture of vajrasana, seated above a moon disc, pink lotus blossom and lion supported throne. A blue-orange nimbus and dark green areola completely encircle. Four playful figures wearing the garb of the laity cavort at the base of the throne.
Jeff Watt 2-2000