Item:

Arhat/Sthavira (Buddhist Elder) - 16 Elders: Angaja
| | |
| --- | --- |
| Origin Location | Tibet |
| Date Range | 1700 - 1799 |
| Lineages | Buddhist |
| Material | Ground Mineral Pigment on Cotton |
| Collection | Private |
Classification: Person
Appearance: Arhat
Gender: Male
Interpretation / Description
Four Arhats and a Guardian King from a five painting set depicting the full group centered on Shakyamuni Buddha and the Sixteen Arhats.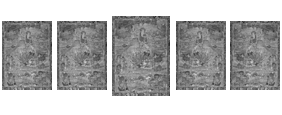 At the center is Angaja holding an incense pot and a fly whisk. At the upper left is an Elder (Sthavira) with the hands in the gesture of meditation. He is very likely to be Ajita although he could also be Kanaka Bharadvaja or Chudapantaka. The suggestion of Ajita is based on the grouping of these four elders into one composition and the fact that they are the first four named elders from the group of Sixteen Elders or Arhats. One problem with this suggestion is that Ajita very often is depicted with the head partially covered by his monastic robes.
At the upper right side is Vanavasin holding a fly whisk in the left hand. At the lower right is Kalika holding a large gold ring in each hand.
At the lower left is Dritarashtra - the Guardian King of the East. At the top center is Amitabha/Amitayus, red in colour, in a standing posture. This form of Amitabha is most often related to the Tantric practice of 'transference' (phowa).
Jeff Watt 1-2014