Item:

Indian Teacher - Nagarjuna
རྒྱ་གར་གྱི་མཁས་པ། མཁན་ཆེན།
印度的祖师
(item no. 15549)
| | |
| --- | --- |
| Origin Location | Eastern Tibet |
| Date Range | 1800 - 1899 |
| Lineages | Buddhist |
| Material | Ground Mineral Pigment on Cotton |
| Collection | Shechen Archives - photographs |
Classification: Person
Appearance: Monastic
Gender: Male
TBRC: P4954
Interpretation / Description
Nagarjuna and Arydeva with the bodhisattva Manjushri riding a blue lion in the sky. This is one painting from a five painting set.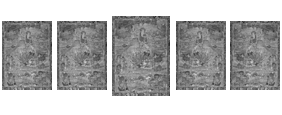 Nagarjuna sits in a relaxed posture and holds the Prajnaparamita Sutra in the left hand. Aryadeva wears a red pandita hat laying flat over the head. A naga, serpent creature, floats in the water in front of the stylized wharf while holding a Prajnaparamita book.
The composition of this painting belongs to a five painting set of which the originals are believed by some to be created by Situ Panchen Chokyi Jungne in the 18th century. There are some people that believe this composition was first created by the 10th Karmapa Choying Dorje as evidenced by a set owned by the Sikkimese Royal Family. That set is claimed to be a gift from the 10th Karmapa to the 1st Sikkim Chogyal in the 17th century.
Jeff Watt 1-2008