Subject: Six Ornaments (Palpung Compositions)
Six Ornaments (Palpung Composition) | Six Ornaments Main Page


Subjects, Topics & Sets:
- Palpung Style Composition Explanation (below)
- Situ Composition (Set 1)
- Situ Composition (Set 2)
- Situ Composition (Set 3)
- Situ Composition (Set 4)
- Situ Composition (Set 5)
- Situ Composition (Set 6)
- Sikkhim Set
- Sikkim (Drawing Set 1)
- Sikkim (Drawing Set 2)
- Six Ornaments Outline
- Situ Panchen Outline Page
- Masterworks
- Confusions
- Others...

The Six Ornaments and Two Excellent Ones of the Southern Continent is an epithet given to the most important Indian Buddhist scholars of the Mahayana Tradition. The two foremost are Nagarjuna, founder of the Madyamaka Tadition, and Asanga, founder of the Yogachara tradition. Their two principal students were Aryadeva and Vasubhandu repectively, followed by the two, Dharmakirti and Dignaga. These six constitute the 'six ornaments.' The 'two excellent ones' are Gunaprabha and Shakyaprabha. The 'southern continent' refers to India, or the human continent of Jambudvipa in the Buddhist cosmological system where there are four continents that surround the central mountain (Sumeru) of a small world system.

Sanskrit and Tibetan Names:
Gyan Drug Chog Nyi (rgyan drug mchog g.nyis)
1. Nagarjuna (slob dpon klu sgrub)
2. Aryadeva ('phags pa arya de va)
3. Asanga ('phags pa thogs med)
4. Vasubhandu (slob dpon dbyig g.nyen)
5. Dignaga (slob dpon phyogs glang)
6. Dharmakirti (slob dpon chos grags)
7. Gunaprabha (slob dpon yon tan 'od)
8. Shakyaprabha (slob dpon shakya 'od)

Additional Scholars:

9. Chandrakirti (dpal ldan zla ba grags pa)
10. Shantideva (rgyal sras zhi ba lha)
11. Chandragomin (slob dpon can dra go mi)

The Six Ornaments: Nagarjuna, Aryadeva, Asanga, Vasubandu, Dignaga and Dharmakirti.

The Two Excellent Ones: Gunaprabha and Shakyaprabha.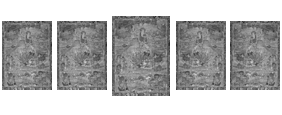 Also see the Gangtok, Sikkim publication of the famous painting set claimed to be a gift to the first Sikkhim Chogyal from the 10th Karmapa Choying Dorje:
rGyan-Drug mChog-gNyis
, Namgyal Institute of Tibetology Gangtok, Sikkim, 1962. (Some scholars refute the Sikkimese claim of provenance and say that the set is a copy of a Situ Panchen composition first conceived in the 18th century).
Jeff Watt [updated 5-2017]