Item:

Amoghasiddhi Buddha
སངས་རྒྱས་དོན་ཡོད་གྲུབ་པ།
不空成就如来 (梵名阿摩伽悉地)
(item no. 30651)
| | |
| --- | --- |
| Origin Location | Tibet |
| Date Range | 1300 - 1399 |
| Lineages | Buddhist |
| Material | Ground Mineral Pigment on Cotton |
| Collection | Private |
Interpretation / Description
Amoghasiddhi, Buddha (Tibetan: don yo dru pa, sang gye): the patriarch of the last of the Five Families of Transcendent, or Symbolic, Buddhas. This composition belongs to a set of five paintings in the group known as the Sarvavid Maha Vairochana Mandala as described in the Sarvadurgati Parishodhana Tantra.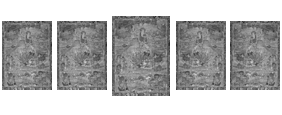 Amoghasiddhi Buddha has a standardized iconography in Tantric Buddhism. He is green in colour with a general Bodhisattva Appearance which is the essential visual characteristic of a Sambhogakaya Buddha. He holds the right hand up with an open palm and the left is placed in the lap as if in meditation. The two legs are crossed in vajra posture. The crown of the head, ears, neck, arms and legs are adorned with a crown, jewels and ornaments of all types. Above a garuda supported throne and multi-coloured lotus seat, he is surrounded by an elaborate torana (throne back)
Standing on the proper right side of Amoghasiddhi is a bodhisattva-like figure with multiple colours for the different limbs and sections of torso on the body. On the Buddha's left side is a bodhisattva-like attendant, yellow in colour, standing with both palms of the hands facing outward. Six smaller seated figures are arranged above Amoghasiddhia to the right and left sides. Three small green coloured figures are seated at the level of the throne. These three are door-keepers and relate to the proper arrangement of deities in the full mandala o Vairochana as described in the Sarva Durgati Parishidhana Tantra.
At the bottom left side of the composition are is a worldly god riding a horse and Vaishravana, Guardian Protector of the North. At the bottom right of the composition is a solitary worldly god riding a bull.
Jeff Watt 7-2013