Interpretation / Description
Shakyamuni Buddha, Previous Life Stories (Sanskrit: jataka. Tibetan: kye rab): from the famous Indian text presenting 34 morality tales drawn from the previous life stories of the historical buddha, Shakyamuni.
---
#5 The Invincible One
A Tale of Unwavering Virtue.
Born into an illustrious family, the bodhisattva became the head of his guild and acquired a great deal of wealth. He was an impressive man, radiating generosity and morality, excelling in sacred learning, self discipline, and spiritual knowledge, embodying both wisdom and humility. He became known as Avishya, 'the Invincible One'.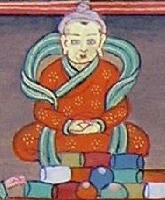 With vast means at his disposal, charity was a perpetual practice for him and having no attachment to his great wealth, this became his only passion. He enjoyed nothing more than watching mendicants carry off the finest objects from his home.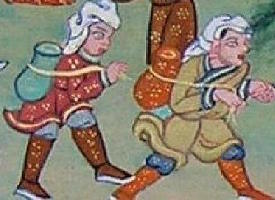 Shakra, the Lord of Gods, heard of the bodhisattva's benevolence and decided to test him. Shakra then began to steal Avishya's possessions and before long, everything was gone except for a rope and a sickle. Now with almost nothing, and not being accustomed to begging himself, Avishya took the rope and sickle and went out to toil in the fields, gathering grass to sell as crops. He would take the little money he earned and immediately use it to give further aid to mendicants.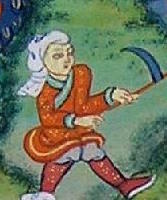 Shakra was astounded by the bodhisattva's unshakable calm and devotion to giving even while suffering from extreme poverty. Yet he was not quite finished testing him. He appeared before Avishahya in a burst of dazzling rainbows, floating in mid-air in his wondrous celestial form, and attempted to turn him away from giving. Shakra proclaimed that Avishya was being irrational and that he should focus rebuilding his wealth. The bodhisattva humbly refused and stated that he had no desire for wealth and that the only joy he seeks is that of generosity. Further more, he firmly proclaimed that no matter what, he would never stray from his path of charity. This delighted Shakra who then promptly returned the bodhisattvas estate and then disappeared into the sky.
Monty McKeever 3-2005
---
Key Events in the Story
1. A generous man gives everything away.
2. Content and happy.
3. Tested by the Lord of the Gods.
Front of Painting
English Translation of Inscription: Five.
Wylie Transliteration of Inscription: lnga.