Interpretation / Description
Shakyamuni Buddha, Previous Life Stories (Sanskrit: jataka. Tibetan: kye rab): from the famous Indian text presenting 34 morality tales drawn from the previous life stories of the historical buddha, Shakyamuni.
---
#7 Ajastya the Ascetic
The Virtues of Ascetisism and Solitude.
Born the illustrious Brahman Ajastya, the Bodhisttva was a wise, wealthy, and generous householder. Yet seeing that attachment to worldly possessions only leads to further suffering, he decided to take up a life as an ascetic and entered the forest and devote his life to spiritual development.
So as to not be bothered, he built his hermitage in the remote island of Kara in the southern ocean. As his ascetic practice flourished, even the wild beasts and birds understood he was a holy man. Although he limited his meals to only what would sustain him, he always honored any guests who passed through the island, offering them roots and fuit, fresh water, words of welcome and blessing. He would only eat what was left over.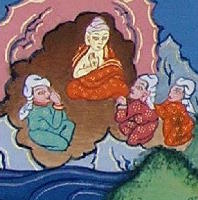 The glory of Ajastya's great ascetisism spead everywhere, even reaching the ears of Shakra, the lord of gods, who decided to test him. First Shakra started making the roots and fruit of the island disappear, but Ajastya absorbed in medititation and having very few needs, barely noticed. Without food, Ajastya continued to sustain himself on nothing more than boiled leaves. So for a second test, Shakra, becoming slightly more extreme, stripped every leaf from every tree, shrub, and bush on the island. Once again, Ajastya barely noticed and by boiling only a few of the freshest fallen leaves, might as well have been feasting on ambrosia. For a third test, Shakra started to appear every day right at meal time as a hungry and thirsty man, knowing Ajastya would offer him his only food for the day. Yet Ajastya was still content and it was as if he was feasting on nothing but the joy of generosity.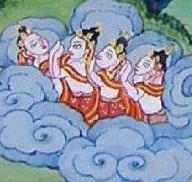 Shakra, knowing that such constant ascetic pracitice could gain one entry into the god realm, and fearing this, then appeared in his true celestial form and questioned the Bodhisttvas motivation. Ajastya responded that his motivation was to better the lives of all beings. Delighted, Shakra then said he would grant him one wish. Desiring nothing, the bodhisattva responded only with wishes for the good of all and nothing material for himself. Delighted further, Shakra continued to attempt to grant him something but every time he offered, the bodhisattva desired nothing until finally he wished that the great Lord of Gods go away and leave him to his ascetisism. Seeing that Shakra was offended, the bodhisattva explained it was simply because his celestial god form was so beautiful that it might be an obstacle for his spiritual duties. Shakra was satisfied and rewarded Ajastya with a great feast and then promptly disappeared.
Monty Mckeever 3-2005
---
Key Events in the Story
1. An ascetic on an island.
2. Generous to all.
3. Tested by the Lord of Gods.
Front of Painting
English Translation of Inscription: Seven.
Wylie Transliteration of Inscription: bdun.