Item:

Teacher (Lama) - Tsongkapa
| | |
| --- | --- |
| Origin Location | Tibet |
| Date Range | 1700 - 1799 |
| Lineages | Gelug |
| Size | 75.57x50.80cm (29.75x20in) |
| Material | Ground Mineral Pigment on Cotton |
| Collection | Asian Art Museum of San Francisco |
| Catalogue # | B62D37 |
Classification: Person
Appearance: Monastic
Gender: Male
TBRC: P64
Interpretation / Description
Tsongkapa Lobzang Dragpa (1357-1419): founder of the Gelugpa Tradition of Tibetan Buddhism.

Tsongkapa

Biographical Details
Tsongkapa in this composition is from a set of five paintings (je zigpa ngaden). Here he appears as a mahasiddha, Indian adept, riding atop a tiger, brandishing a sword in the upraised right hand while holding a skullcup in the left. This subject is based on a vision of five forms of Tsongkapa as experienced by Kedrup Geleg Pal Zangpo, a student of Tsongkapa. Kedrub is depicted in the bottom right corner holding a mandala offering symbolizing the entire universe with Mount Sumeru at the center in the two upraised hands.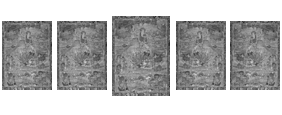 Jeff Watt 3-2004 [Updated 5-2009]