Interpretation / Description
Amoghasiddhi, Buddha (Tibetan: don yo dru pa, sang gye): the patriarch of the last of the Five Families of Transcendent, or Symbolic, Buddhas. This composition belongs to a set of five paintings in the group belonging to the Vajradhatu Mandala of the Charya Tantra classification.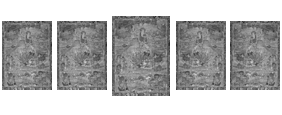 All five Buddhas represented in the mandala are either depicted in a single mandala configuration such as HAR #773 (or see block print below) or depicted in a set of five compositions where each depict a single Buddha along with the principal bodhisattvas and deities associated with that specific quadrant of the mandala.
Amoghasiddhi is green in colour with one face and two hands. The right hand is held up to the heart and the left rests in the lap. He wears jewel ornaments and garments with the over all appearance of a peaceful deity seated in a vajra-cross legged posture. At the right and left sides are ten bodhisattva figures in varying colours. Eight are kneeling and two standing. Each is attired in the jewels and garb of a peaceful deity.
In the top register are seven seated Buddha figures each identical one to the other. At the front of the throne appearing like an emblem is one of the four Door Guardians (dvarapala) associated with a mandala and palace configuration.
In the bottom register are several deities associated with the full mandala configuration and the lone figure of Shri Devi Dorje Rabtenma, holding a sword and a mongoose, riding a donkey.
The buddha Vairochana can best be understood in three different ways: as [1] the principal character in a number of Buddhist sutras, [2] a common image depicted in painting and sculpture, and as [3] a meditational deity used in ritual practices. All of these have the same common source in the Vairochana Sutra. Vairochana is also one of the three most important Buddhas in Tantric Buddhism along with Akshobhya and Amitabha. These three together make up the organizing structure of the first category of the fourfold Tantric classification system. In some Sutra explanations Vairochana is seen as a universal form of Shakyamuni Buddha and is especially important in the history of the early development of Buddhist Tantra.
Name: Sarvavid Maha Vairochana, The Thirty-seven Deity Mandala of all the Families of Great Vairochana Tibetan Name: kun rig nam par nang dze lha sum chu so dun kyil khor Textual Source: Sarvadurgati Parishodhana Tantra
Mahavairochana Mandala Lineage, Mahamandala and Abhisheka: Buddha, Pupawo Bodhisattva Vajrapani, Gyalpo Rabsal Dawa, Dei Lobmai Chog Ngani, Padkar Yeshe, Jnanavajra, Gyalpo Dragchen Dzin Zangpo, Nyima Nyingpo, Gyalrig Sarapao, De Nga Kai Lobma Kunga Nyingpo, Tathagata Vajra, Shraddhakara Varman, Lotsawa Rinchen Zangpo, Cholung Legpai Sherab, Sumton Yeshe Bar, Nyanton Tsultrim Bar, Todpa Bentsa Dragpa, Tsang Rong Gi Lobpon Chokyi Gonpo Pal, Lama Chokyi Gyalpo (Chogyal Pagpa 1235-1280).
Jeff Watt 1-2013
Numbered Image & List:
1. Amoghasiddhi Buddha.
2. Buddha.
3. Buddha.
4. Buddha.
5. Buddha.
6. Buddha.
7. Buddha.
8. Buddha.
9. Bodhisattva.
10. Bodhisattva.
11. Bodhisattva.
12. Bodhisattva.
13. Dorje Srungwa.
14. Dorje Nujin.
15. Dorje Le.
16. Dorje Kutsur.
17. Garma.
18. Drichabma.
19. Vajra Ghanta.
20. North, Yaksha, yellow, holding a mongoose, riding a horse.
21. Wrathful Deity, green.
22. Shri Devi, Dorje Rabtenma.
23. Wrathful Deity, blue.
24. North-east, Ishana, holding a trident, riding a buffalo.
25. North: Vaishravana, yellow.