Region: Tibet Main Page (Regions & Locations)
Regions Main Page

Database Search: Painting, Sculpture, Mandala, Teachers


Subjects, Topics & Types:
- Painting
- Mandala
- Sculpture
- Ritual Objects
- Others...

- Video: A Question on Art Remaining in Tibet

Main Regions:
- Central Tibet (U-tsang map)
- East Tibet (Kham, Amdo)
- West Tibet (Ngari)
- Dolpo
- Ladakh
- Mustang
- Others...

Places:
- Cityscape Paintings
- Tibet Murals Outline Page

- Barkhor Temples, Lhasa
--- Sakya Temple
--- Sera Temple
--- Trode Khangsar Temple
- Bodong Monastery

- Densatil Monastery
- Dege Gonchen Monastery
- Dege Gonchen College (old)
- Dratang Monastery
- Drepung Monastery
- Drigung Monastery
- Drolma Lhakang
- Dungkar Caves: Gallery 1, Galley 2, Gallery 3, Gallery 4
- Dzongsar Monastery
- Dzongsar College

-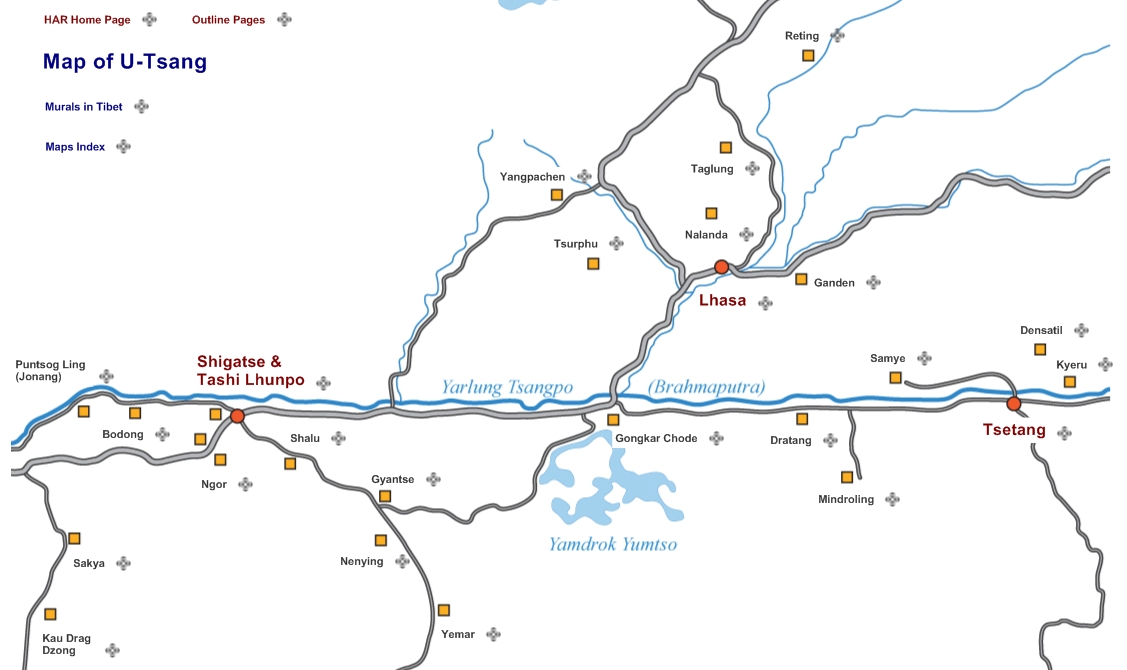 Ganden Monastery
- Goose Valley
- Gongkar Chode Monastery
- Gyantse Dzong, Kumbum & Monastery

- Halji Village
- Jokang Temple (tsuglhakang)
- Jonang Monastery (Dolpopa)

- Kailash, Mount
- Kau Drag Dzong
- Kumbum Monastery
- Kyeru Monastery

- Labrang Monastery
- Lhasa Town
- Lhukang Temple (Lhasa)

- Mindrolling Monastery
- Nalanda Monastery
- Nechung Monastery
- Nenying Monastery
- Ngor Monastery
- Nyag Lhakang Karpo

- Pabongkha Monastery
- Palpung Monastery
- Par Caves
- Piyang Caves: Gallery 1, Gallery 2

- Reting

- Sakya Monastery
- Samye Monastery
- Sera Monastery
- Shalu Monastery
- Shide Dratsang
- Shigatse Town
- Shongpa Lhachu

- Tagden Puntsog Ling Monastery (Taranata)
- Taglung Monastery
- Tashi Lhunpo Monastery
- Trode Khangsar Temple
- Tsaparang Caves
- Tsetang Town
- Tsurpu Monastery

- Yangpachen Monastery
- Yemar

- Others...

Jeff Watt 8-2007 [updated 6-2015]

---
Bibliography
:
- A Historical Atlas of Tibet. Karl E. Ryavec. University of Chicago Press, 2015.
- The Temples of Lhasa. Tibetan Buddhist Architecture from the 7th to the 21st Centuries. Andre Alexander. Serindia Publications, 2005.
- The Lhasa Atlas. Traditional Tibetan Architecture and Townscape. Knud Larson and Amund Sinding-Larsen. 2001.
- Mapping the Tibetan World. Yukiyasu Osada. 2001.
- The Power Places of Central Tibet, The Pilgrim's Guide. Keith Dowman. Routledge & Kegan Paul, London, 1988.
- A Buddhist Guide to the Power Places of the Kathmandu Valley. Keith Dowman. Kailash Publications, Kathmandu, 1995. (See
Pdf
).
- Tibet Handbook, A Pilgrimage Guide. Victor Chan. 1994.
- Tibet Handbook (with Bhutan). Gyurme Dorje. Footprints Handbooks, 1996.